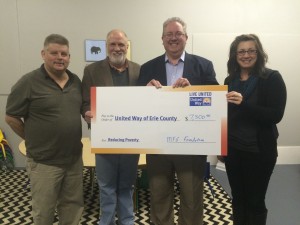 On March 31, 2015, MFG Companies' Union City plant awarded the Union City Family Support Center (UCFSC) a grant of $7,500. The grant coming from MFG's Foundation is set to aid UCFSC's dream of a creating a Quality Early Learning Space to foster early childhood education both for families and professionals in southern Erie County.
"We're just glad we can help the community," Jerry Tromas, MFG Plant Manager, Union City.
A small number of individuals were present for the event, including Jerry Tromas- MFG Plant Manager at Union City, Cheri Markham- Controller at MFG Union City, Bill Jackson- President and CPO of United Way of Erie County, Dave Robinson- Executive Director for the UCFSC, Brittany Chapman – AmeriCorps VISTA for the UCFSC, and Bonni Williams- Director of Family & Community Engagement for the UCFSC.
Bill Jackson stated, "The check will be matched by Erie Insurance, who is graciously matching awards to United Way up to $100,000 until the end of our annual giving campaign." Awarded through the United Way, this now allots $15,000 for the project.
Bonni Williams discussed her vision for the project, "I would love this space to be utilized for area families to drop in and learn about child development and education as well as area professionals to do the same. We'd like to have daily lessons for the little ones along with any child of any age feeling welcome to come in and spend time learning."
The money awarded will be used to buy books, furniture, supplies, and technology all to equip the room as a mini-Star 4 Early Learning Complex. Stars numbered one through four are the system used by the state of Pennsylvania to rate childcare centers. "To act as a model, this room will appear as a mini-Star 4 Early Learning space for area professionals to use," Dave Robinson
Work on the room is to begin immediately, and UCFSC staff hopes that this space will be open as soon as this summer. MFG commented as a part of the this community themselves, they are excited to be able to give back and reinvest. UCFSC staff was ecstatic as their vision is slowly becoming a reality, grateful to MFG and the United Way of Erie County. "This wouldn't have been possible without MFG and United Way, both true partners in this community," Dave Robinson.
Above: Pictured from left to right: Jerry Tromas, Dave Robinson, Bill Jackson, and Bonni Williams