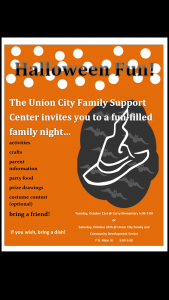 Our group connections for the month of October will include:
Tuesday, October 21st at Corry Elementary School from 5:30 – 7 PM
Saturday, October 25th from 3 – 5 PM at the Union City Community Development Center – 7 N Main Street, Union City, PA.
This month's theme is Halloween!
So come out for crafts, games, activities, food, and education for parents!
There is an optional costume contest is you choose to participate.
As always, bring a friend and a dish if you wish!
We look forward to seeing you there!